How To Have Thailand's Most Idyllic Islands (Almost) To Yourself
My dream of visiting Thailand's islands was as vivid as it was specific: I would walk along an empty beach, its sand as white and fine as sifted flour, beneath soaring rock walls. I would wade into a cerulean sea so clear that I could make out the chips in my toenail polish. And I would be profoundly, blissfully alone.
This long-held fantasy was born some 15 years ago, when I first saw "The Beach," the Leonardo DiCaprio film that put Thailand's Phi Phi Islands on the map. I have since fueled this reverie by perusing countless Thailand travel blogs and Instagram posts showing shimmering, desolate coves and empty beaches of impossibly white sand.
So when a cousin invited me to her wedding in the southern Thai province of Krabi—whose coastline borders the island-studded Andaman Sea—I jumped at the chance to go. I would have just a couple of days to explore offshore on my own, but I reasoned that would be more than enough time to realize my fantasy.
I knew that I wouldn't be the only one looking for a Thai island idyll: The blogs made that clear. Many complained about drunken crowds, especially on islands served by huge ferries out of Phuket, Krabi's neighboring province. But I had done my research and knew that there were ways to avoid such encounters. I'd learned, for example, that several tour operators offered private boat trips to nearby islands for a few hundred dollars; with so many islands to choose from (many of them uninhabited, protected preserves), I figured I could find at least a small stretch of one to call my own. What I hadn't counted on was just how many others had the same idea.
Many of Krabi's most famous islands are only about an hour's boat ride from the popular port towns of Krabi and Phuket. Among the most famous are the Phi Phi island group—one of which, the protected Phi Phi Leh, served as the main location for "The Beach"; its sister island, the developed Phi Phi Don, was leveled in the 2004 Indian Ocean tsunami but is once again bustling.
I planned to start my island exploration—and hopefully bypass the busiest hot spots—by booking one of the private half-day boat tours arranged by my hotel, the beach-front Phulay Bay, one of Ritz-Carlton's new Reserve properties.
In an attempt to ensure an atmospheric jaunt, I opted for the mode of transport favored by locals: a long-tail boat. These vessels come in all sizes, and pair an open, gondola-style wooden hull with a hulking, rear-mounted truck engine that looks like something out of "Mad Max"; their long prop shafts pivot for steering like the turret on a tank. As my captain guided us through the jade-green water of the Andaman Sea, tall, craggy islands loomed on the horizon. From far away, they looked dramatically angular, like haphazardly piled children's blocks. Some were furred with thick clumps of trees. Up close, their sheer limestone walls were pitted and grooved and freckled with birds' nests.
But each time we approached a landing point, I felt my enthusiasm dampen. Inevitably, we would round a pristine-looking headland only to arrive at an inlet crammed with other long-tails and speedboats.
Gamely going ashore on the main beach at Poda Island (the captain had brought me, after all), I had to pick my way between zinc-smeared swarms. A gorgeous grotto off Hong Island turned nightmarish when a tour boat that resembled a double-decker bus anchored and began blasting electro-house Lady Gaga remixes from refrigerator-size speakers.
"It's like Coney Island!" I yelled to my guide above the pounding bass line. "Is it always this crowded?"
"Oh, yes," he shouted back, smiling widely. "Tourist love come here!"
I knew I'd have to try something different the following day. So that evening, I met with my hotel's general manager, Carlos Tarrero, who explained that, because of tides and currents, nearly every tour boat, privately chartered or not, sticks to the same routes and landing points. "If you had a couple of weeks," he told me, "I'd advise you to charter a yacht. The closer you get to the Malay and Burmese borders, the more untouched the islands are."
With just one day left to island-hop before my flight home (and with the bank account of a mere mortal), an extended yacht rental wasn't an option. So Mr. Tarrero arranged the best alternative: a private speedboat charter that would pick me up the next morning at 6 a.m., allowing me to dodge the prime-time touring hours between 10 a.m. and 3 p.m. So soon after dawn, he said, even the most trammeled islands would be almost deserted. Although I admittedly balked at the price tag—somewhere north of $500—I knew it was my only chance of finding the sanctuary I was searching for.
Timing did make all the difference. When we made our first stop the next morning at Phi Phi Leh's Maya Bay, which was featured in "The Beach" and is—no surprise—Krabi's most popular island destination, the sun was just starting to peek over the tops of the surrounding cliffs and the famed crescent of sand was still in shadow.
For a glorious half-hour I, and just a few other early risers, swam in the sapphire-hued shallows and waded as schools of silvery fish swirled around our ankles.
It wasn't long, though, before the rumble of impending engines began to ricochet off the rock walls. Within minutes, eight or nine other boats—much larger than mine—had arrived and disgorged throngs of young and exuberant passengers, who whooped and splashed as they floated their foam beer coolers toward shore. I motioned to my boat captain that we should move on.
For the rest of the day, we managed to stay one step ahead of the crowds at every island we visited. On Phi Phi Don, I wandered a stretch of beach whose rows of chaises were still empty. The 9 a.m. arrival of an enormous ferry jammed with hundreds of passengers chased us to a tranquil nearby lagoon, where the entry was too narrow for larger boats. There I enjoyed nearly an hour of solo backstroking (and monkey watching) before a pod of kayakers showed up. The shoreline at Bamboo Island was sparsely dotted with watercraft at 10 a.m., but by 11 several triple-outboard rigs had pulled in carrying loads of selfie-snappers.
My favorite stop of the day, though, wasn't even part of my planned itinerary. Once my captain had turned our boat and started the hourlong trip back to Phulay Bay, I sat in the bow and watched the islets hurtle by. Suddenly, a particularly small one, which rose four or five stories out of the water like an upended dagger, caught my eye.
"Can we stop there?" I asked the captain, pointing to it.
His face creased in confusion. "No beach there," he said.
"It's OK," I told him. Shrugging amiably, he turned the steering wheel in the islet's direction.
I had noticed on other islands that many of the rock escarpments had iron loops that the local fishermen used to secure their small boats while hauling in their nets. As we edged up to the islet, I saw just such a loop and gestured the captain toward it. Happy to oblige my whim, he cut the engine and tied us up.
I leapt off the boat into the water…and solitude. It only took me about 10 minutes to swim around the islet, through the deep and gently swelling surf, and there wasn't another boat—or person—in sight.
On the far side, the base of the limestone had eroded away to make a sort of cave: Paddling beneath its dripping stalactites was like entering a private rainstorm.
"This is incredible!" I cried, bobbing back toward the boat. "Please, what is this island called?"
"I don't know," the captain replied, helping me aboard.
As we sped away, I looked back at the fast-retreating islet. For a moment I raised my camera, intent on capturing its form—a stem of rock, among so many others—but then closed my lens without snapping the shutter. My own perfect Thai island was nameless, and I'd have no photographic evidence to prove its existence. But it is still vivid in my mind—where I never have to share it.
The Lowdown: Island Hopping in Krabi
Getting There: Several major carriers offer service from U.S. gateways to Bangkok, where there are frequent daily flights to Krabi.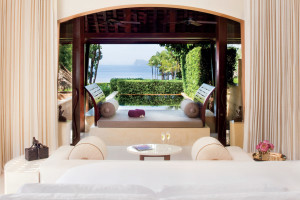 Staying There: To avoid the crowds of Krabi Town and the neighboring beach resort of Ao Nang, travel about 40 minutes north to the relatively undeveloped stretch of Tubkaak Beach. Phulay Bay, a Ritz-Carlton Reserve property, is the area's finest hotel, with villas that feature private pools and butler service (from about $530 per night; ritzcarlton.com). Just up the beach, the Tubkaak Krabi Boutique Resort has stylish, comfortable rooms, some with sea views (from about $225; tubkaakresort.com).
Boat Charters: Live-aboard cruises allow you to visit well-trafficked spots before the crowds arrive and after they're are gone. Phuket-based Sunsail offers 7- and 14-day crewed yacht charters as well as bareboat options.
The longer itineraries include the main Krabi islands, and more pristine, remote southerly islands like Koh Lanta and Koh Rok (from $2,916 per person, for up to 8 people; sunsail.com). If you don't mind sharing tight quarters with a slightly larger (and younger) group, GAdventures offers weeklong sails around the islands (from $1,699 per person; gadventures.com).
Day Tours: You can easily book island day trips through your hotel or at a local kiosk, but arranging a tour through Your Krabi will ensure that you have a safe and enjoyable experience. The company keeps its group speedboat and long-tail trips small, and offers very reasonable prices, starting at about $20. Private day charters can also be booked and start at about $65 for a long-tail trip, and up to about $1,000 for full-day superluxury options. Founder Seema Prabhu offers great suggestions for day-trippers on her company's site; among them: "Revise your expectations. Nobody would bat an eyelid to find other famous places such as the Eiffel Tower or the Taj Mahal heaving with people," (yourkrabi.com).